If you're in the market for natural stone countertops but just not sure if granite is the right choice for you, then read on. StoneSense has develop this simple guide answering the most frequently asked questions with granite countertops.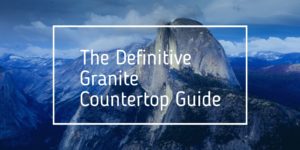 Why are granite countertops such a popular choice?
While the cost of granite is higher than many other materials that can be used for countertops, your investment in this natural stone product will be realized in either the decades of use you enjoy, or the increased value of your home if you decide to sell. Granite Countertops an extremely popular choice among homeowners because of their beauty, durability and excellent hygienic properties.
Granite is a stunning example of nature's ability to create art that goes beyond the abilities of humans. With minerals such as quartz, feldspar, mica and more adding colour, veins and patterning in the natural stone slabs, your granite countertops can suit any decorating style from understated elegance, to bold and dramatic flair. Despite their incredible beauty, these countertops are extremely durable, heat and scratch resistant and provide you with a work surface that will withstand whatever the busiest of kitchens can throw at them. What's more, they are naturally bacteria and germ resistant which makes granite countertops a wise choice to keep your family healthy.
What is the proper thickness for a granite kitchen countertop?
To create a strong presence and bold focal point in your kitchen, the industry standard for granite countertop thickness is 1 ¼-inches or three centimeters. Slabs of this thickness are stronger and more refined-looked than their thinner counterparts. If you prefer a less bold look and want something subtler, it's possible to go as low as ¾ of an inch in thickness for your granite countertops but additional supports may be required to prevent cracking or breaking. Your professional stonemasons at StoneSense in Ottawa can guide you through your stone selection to ensure you get exactly the look and functionality you seek.
Will the vibrant colour in my granite fade over time?
Under normal circumstances, granite countertops are not particularly susceptible to discolouration or fading. If you have a kitchen window that allows direct sunlight to beam on your granite countertop for several hours daily, it may be a good idea to apply a UVA/UVB film because the sun's harmful rays may cause some fading or possibly dulling of the polish. It is also recommended if you're going to leave items that are under high heat on your granite countertops, that you use a trivet or other protective surface. While the bulk of your countertop is heat resistant and you can place a hot pot directly on the surface, depending on your colour choice, some minerals are more prone to colour-changes under continual high heat conditions than others.
What is the best alternative to granite countertops?
Granite has its own look and feel and since it is a natural product, it is impossible to create a man-made alternative that will match its beauty exactly. if you're considering granite for your space you are probably looking for the character, colour and uniqueness that's hard to beat with other materials. With that in mind, the closest materials that will provide a similar look and feel are quartz or porcelain products. These options are durable and stylish, with many options for colour and patterns to choose from.
What is the average cost of a granite countertops in a standard kitchen remodel?
As with any remodeling project, there are numerous considerations that will affect the price of your granite countertops. The number of cuts, joins and choice of edge-finish are just a few examples of items that affect your overall pricing. Since granite is a natural stone product and some colours and patterns are limited in supply, the type of granite slab you choose will also vary in price. To provide you with a good baseline to work from however, our StoneSense experts have calculated the average cost of granite is roughly $75.00 a square foot. A small project of approximately 30 square feet @ $75.00 per square foot would cost about $2250.00 while a larger projects of approximately 65 square feet land around $4500.00 before taxes. Please bear in mind we are providing these numbers just to give you a starting point to work from and there are variables unique to your home that can affect the prices.
Your StoneSense team hopes this definitive guide helps you see the value in investing in granite countertops for your Ottawa home. While we covered the most popular questions we receive from clients, we understand that you may have many more before deciding if they are the right choice. We invite you to contact us and we can help you choose the perfect granite countertop at a price you'll agree is well worth the investment in terms of longevity or resale value.