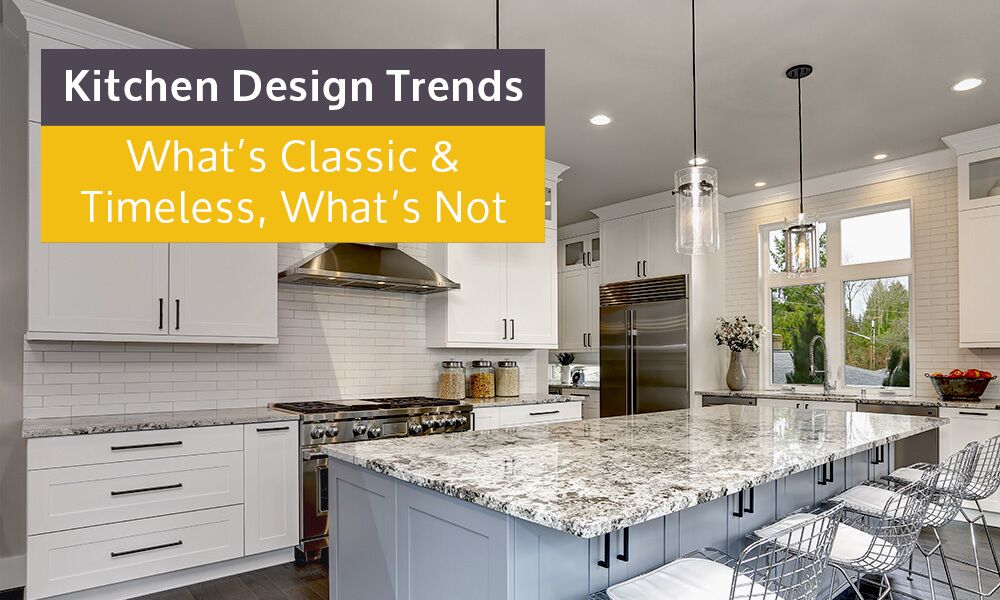 Remodeling a kitchen is a significant project that takes a lot of planning, time, effort, and not to forget, a sizable budget. Many of the elements that go into a kitchen can't be changed out in a year or two if you decide in the future that you don't like them. A coffee table in your living room can easily be replaced. Your kitchen cabinets are there to stay much longer. If you're getting ready for a kitchen renovation and checking out tiles stores in Ottawa, you should know the trends that are fading out of fashion and which ones are chic and timeless.
Outdated Elements of Kitchen Design
Kitchen fads come and go. Remember avocado green or harvest gold appliances? Aren't you glad that those colours are out? Modern colour choices are natural browns and greens, but we've seen many combinations over the years. Some kitchen trends make your kitchen feel modern and chic. Other trends can become outdated so quickly, your kitchen might feel out of style in just a year. Here are some kitchen fads that are losing popularity.
Open Shelving
In theory, open shelving is great. When your kitchen cabinets are clean and organized, open shelves have a nice vibe. The problem is that it takes a lot of time to keep up with the organization of open shelves. After just a few months, you may find that you prefer kitchen cabinets where you can easily store everyday items without worrying about an untidy look from the outside. If you prefer the open, airy look, consider adding more windows and lighting to your kitchen.
Colourful Appliances
Modern kitchens are usually designed to be fairly neutral in colour, but in the past we've seen colourful appliances introduced to give the kitchen a pop of colour. In the moment, these appliances can really give your kitchen a makeover, but it will be more expensive to replace them later if you want to change your design. Instead, choose neutral-toned, chrome, or stainless-steel appliances that will go with any scheme. To add those pops of colour, get creative with kitchen towels, table linens, flowers, or interesting serving dishes, fruit bowls, and platters that make your tables and countertops look eye-catching.
Rustic Wood
Wood is a classic material in many kitchens that adds warmth and beauty. Rustic wood used to be on trend, but this distressed look is now dated and can make your kitchen appear as if it's from a different decade. If you do want to use wood, choose reclaimed wood that is sustainable. Recycle it with fresh stain and varnish to bring out its natural beauty.
Tiled Countertops
Tile countertops were very popular starting in the 70s. A tile countertop can be just as stunning as a marble or quartz countertop, and more affordable, too. Unfortunately, they are difficult to maintain and clean on a daily basis. The grout is difficult to clean, especially when it breaks down. Tiles used for the countertop aren't always designed to handle the heat of a pan sitting on it. You'll likely get tired of your tiled countertop quickly. If you love the look of tile, choose to use it as a backsplash or on the side of an island. Your local tile store in Ottawa has a large selection to choose from.
Glass Mosaic Background Tiles
Some tile stores in Ottawa may still carry glass mosaic tiles in slate, silver, and gray, but those colours are no longer on trend. Instead, choose a tile pattern in a single shade that will go with many different design styles over the years.
Timeless Kitchen Trends
A little black dress is a timeless fashion piece. You might need to update it with trendy jewelry and shoes, but the LBD is a classic standard in most women's wardrobes. It's the same with your kitchen. There are some standard elements and features that simply never go out of style.
Everyone always wants pantry space. Most kitchens can always use more drawers and counterspace. The traditional kitchen triangle of stove, sink and refrigerator is still one of the most efficient layouts for a kitchen design. When you're remodeling, think about these timeless kitchen trends.
Natural Stone Countertops
Granite, quartz, and marble countertops in Ottawa never go out of style, unless they're a unique colour that might not fit into a contemporary design. These countertops are durable and beautiful. Although these natural stones aren't maintenance-free, when they are properly installed and kept up, the surface is easy to clean and to take care of. Here at StoneSense, we believe that it is a great material for countertops in any kitchen.
Subway Tiles
Subway tiles have been used in design since the 1900s. As the name suggests, they were first used in subway stations, but they were quickly adopted for home design. These rectangular tiles are generally white and have been popular for decades in kitchens as backsplashes. Subway tiles blend into the background, making your marble and quartz countertops in Ottawa the stars of the kitchen.
Sustainability
Sustainability is not a new trend, but we are seeing new materials in kitchens that give homeowners the option to create an eco-friendly and safe kitchen. Homeowners aren't just thinking about their current impact on the environment, but on their future carbon footprint. Choosing a long-lasting material for the countertop, such as marble in Ottawa, is a better option when you are ready to remodel. To be more environmentally-friendly, use a paint without volatile organic compounds and choose wood made without urea-formaldehyde, which is a toxic resin.
Open Kitchens
A refreshing trend in newer homes is open and airy spaces that feel light and bright. Open shelving might be out, but an open kitchen feels homier and more inviting. Include natural lighting, skylights and more windows, as a start. Use light colours. White kitchens are on trend but don't go too stark with the white. Choose a paint with a warm undertone. Avoid painting your cabinets dark. Go with lighter woods or paints. Yellow makes a nice pop of colour in a white kitchen, as does green. Include some plants in your kitchen to make it feel open and airy.
Let Us Show You the Beauty of Natural Stone
From the floor to the ceiling, you want your kitchen to be inviting, functional, and timeless. StoneSense specializes in natural stone, ceramic and porcelain tile, mosaic, and hardwood for your home. We source our products from sustainable and high-quality suppliers to make your kitchen beautiful. Our installers are highly trained and qualified to handle any size job in the kitchen, living room, or bathroom. We know marble, quartz, and granite in Ottawa. Contact us to learn more about choosing the right countertops, tiles and flooring products for your kitchen.