"Everything I Need to Know About Quartz Countertops" – is Right Here!
Renovating a kitchen or bathroom can be fun and frustrating all in one fell swoop. Dreaming about your renewed room is different than experiencing the process of demolishing your space and living without a stove and dishwasher for weeks. In the end, it is all worth it, especially when one of the perks is choosing your new amenities. Do you want Spanish tile floors? Maybe you prefer cherry cabinets over maple. Then there are your countertops. Do you stick with laminate or move to stone or wood?
When looking for natural beauty that will last for years with little maintenance, consider quartz countertops from StoneSense. This powerhouse of character, charm, and strength will give you the elegance you crave. If this material has never shown up on your radar, you are in for a treat. Come and explore our showroom at StoneSense. We have a full range of styles and colours to suit your taste. 
The Basics of Quartz Countertops 
With all the different choices available, why should you pick quartz for your new countertop? Everything you need to know about quartz countertops starts with basic questions answered below:
Why quartz countertops?
The popularity of quartz can be attributed to its appearance. It looks like stone yet is flexible enough to be customized. Quartz is also environmentally friendly, maintenance-free, and almost indestructible under everyday use. Additionally, the available colour schemes leave you with a slight problem. How do you pick from the various earth tones and stunning shades of bright red, orange, or blue? In reality, the most challenging part of your kitchen renovation may be narrowing down your colour palette.
What are the pros and cons of quartz countertops?
As with any choice you make with your renovation, you should weigh the pros and cons in advance. Consider how the pros outweigh the cons with quartz countertops, starting with the pros:
You get an extremely durable material that can last you for decades.
They are virtually maintenance-free. That is, you don't have to re-seal them each year like some other materials.
Quartz resists staining because it is non-porous, making it non-absorbent and antimicrobial.
You can choose from a plethora of gorgeous designs, colours, and patterns.
After reviewing the pros, you should line them up against the cons, including:
You will probably dull a knife or two if you use the surface as a cutting board. The countertop itself is scratch-resistant.
Sudden temperature changes may cause cracking. Always use a trivet or potholder under hot pans to protect the quartz countertop.
They can discolour when exposed to the sun's UV rays; therefore, they are generally not approved for outdoor use.
Hiding the seams may be difficult but can be overcome through pattern choice and using a reliable, experienced installer.
What is quartz made of?
If you have heard of quartz rocks, then you know what the countertops are made of. Yes, those same stones that you break apart to see the crystals, make up your new kitchen counters. Ground quartz gets combined with resins, polymers, and pigments. Then the man-made additions bind the quartz and allow for lovely designs and patterns to emerge. Different manufacturers will use different percentages of ground stone, starting at 90%.
What are some of the most common quartz suppliers in Canada?
When looking for the leading brands of quartz suppliers, you have many from which to choose. Here are a few to consider:
Cambria – This privately held company conducts business from Le Sueur, Minnesota. It began as a dairy business in the 1930s and entered into the quartz surface business in 2000. They offer a wide range of colours, edges, and slab sizes. Only kitchen and bath dealers, builders, architects, and designers can get their hands on Cambria's products.
Caesarstone – Located in Israel, this publicly-traded company calls itself "the original quartz surface manufacturer." They are known for their natural stone-like appearances and their penchant for pushing the design envelope. This is a good choice if you want a spectacular design of semi-precious stones like tiger's eye.
Silestone – As an Italian company, Silestone sets itself apart because it gives end-users vibrant, solid colours like oranges, greens, reds, and blues. Additionally, you can get their designs in sinks, vanities, and shower pans.
What colours do quartz countertops come in?
The better question is, 'what is your favourite colour?' If you prefer earth tones, then you can take your pick of white, taupe, camel, black, and cream. Do you love bright, vibrant tones that 'pop' from your cabinets? You might like cherry, orange, blue, purple, or hot pink. Do you want different styles and designs? You can find that, too. The beauty of quartz is the variety of colours and designs made by the added resins, pigments, and polymers.
What do I need to know about quartz before I purchase?
Before you take the plunge into a quartz countertop, be sure you know what purpose this will be used for. For example, if you create a lovely outdoor kitchen, you may not want quartz since it fades under the sun's powerful UV rays. Here are some other points to keep in mind: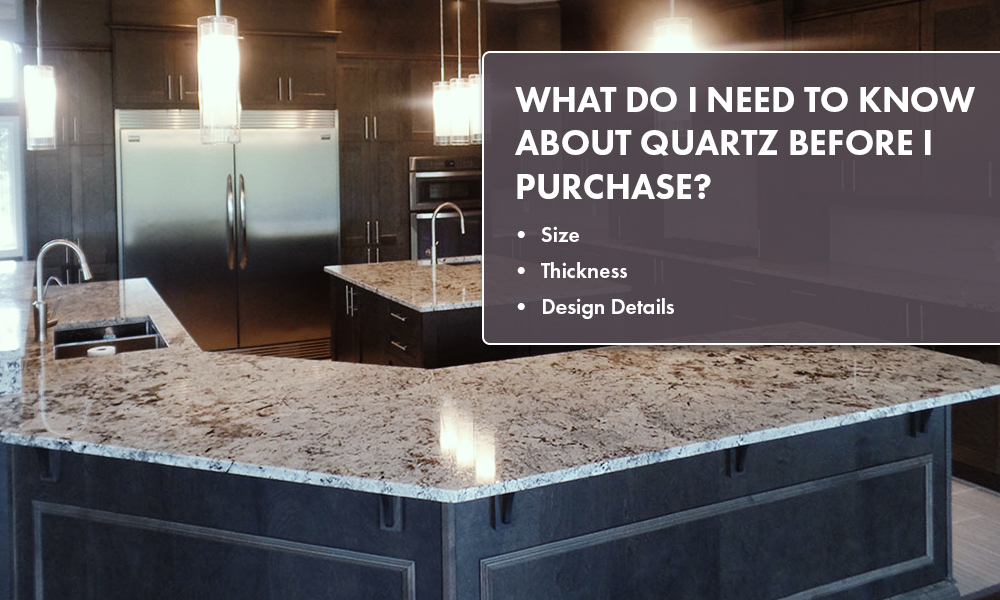 Size: You will also want to know how much you will need. If your area is too long, then the quartz may have to be fabricated in more than one section. This will lead to seams that can be quite noticeable.
Thickness: Once you know the slab size you will need, you will want to determine the best thickness. Depending on the style, brand, and size, you can find thicknesses from ½ inch to 1 ¼ inch.
Design Details: Your choices will be vast so that you may feel overwhelmed, but keep in mind your primary design goals, and you will find just what you are looking for. The perfect piece is waiting for you!
Enjoy World-Class Quality with Professional Service from StoneSense
Quartz adds elegance and beauty to your home that is second to none. StoneSense knows this, and our master stone cutters select, cut, and oversee the installation of each of our products. We have the largest display of options sourced from world-class suppliers with guaranteed installation within 10 days. When you want the best in the industry, choose the expert stone veneers at StoneSense.
Contact us at 613.247.0444 or online to learn more about our high-quality quartz products for your next project.