There exist several different types of kitchen countertop materials. When choosing the one for you, how should you make your decision? There are different colours, textures and prices. How do you know which one to choose?
The stone countertops experts at StoneSense can guide you in making a final kitchen countertop choice. This blog post will get you going, though, by reviewing the features and benefits of the various kitchen countertop surfaces as well as some of their applications.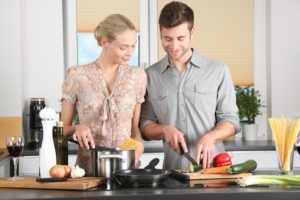 Surface Choice Decision is Tripod of Heat, Stain and Scratch Resistance
There are three important things to remember about countertop surfaces. This tripod of qualities consists of heat resistance, stain resistant and scratch and chip resistance. The various countertop surfaces feature varying degrees of these qualities.
Let's start with the basics: chopping. Many a good meal preparation requires vegetable and fruit to be chopped. Many a good meal, itself, goes better with freshly sliced bread. We're talking knives, and different countertop surfaces stand up to cutting differently.
Wood is a good choice for a cutting surface. Among wood types, bamboo is popular. But placing a hot pot or pan on a wooden surface can mark it. And wood is porous, meaning that it can harbour bacteria or even mold!
A good compromise – and a trend these days – is to install a wooden section of the countertop for chopping. This way you can enjoy the benefits of a wooden surface without having its drawbacks throughout your countertop.
Speaking of placing hot pots and pans on your countertop, if you do this often you may want to consider a stone surface. Granite, marble and quartz are all heat-resistant, although using a pad underneath very hot items is recommended for marble. These countertop surfaces are also resistant to scratching and abrasion, although the edges and corners of granite and quartz can chip, and if so, will need professional repair. Marble can be nicked, cut and scratched, too, but is an ideal surface for rolling pastry dough as it remains cool. Granite and quartz resist staining as well. Finally, stone surfaces require a sealant and doing this annually is recommended.
How to maintain your kitchen countertop – whatever surface you choose to purchase – is something the experts at StoneSense would be happy to discuss with you.
If you seek a professional look, consider a stainless-steel surface. It rates high in heat and stain resistance as well as being resistant to scratching and abrasion. It is easy to clean but has more of an industrial look.
If you seek a traditional look, on the other hand, consider tile. Tile countertops come in ceramic, granite, marble and other materials. They withstand heat, don't stain easily and should be combined with a water-resistant grout. Tile can be tricky, though, in that the grout can become stained and difficult to clean. As a surface it can also be uneven.
Recycled glass is another countertop option. This material is made from crushed glass, often recycled, embedded in a resin base. It resists stains, cuts, scratches and heat.
Finally, laminate still remains an option if cost is a factor for you. Inexpensive and easy to install, a laminate countertop surface will resist stains. It creates a seamless look as the joints are almost invisible. Although it can be damaged by cutting directly on it, most small nicks and scratches are easily repaired.
Whatever your kitchen countertop needs may be – or your food preparation choices are – there exist surfaces to meet them. Whether style, durability or price are important to you, you will find a surface that makes you happy at StoneSense.
Drop into the StoneSense showroom and talk to the experts there today about your kitchen countertop needs. They will guide you through choosing a surface, what to expect in its installation and how to maintain it.